CloudVoice has integration with the Zoiper Mobile softphone.
*** Important: You will need access to the Admin Portal to setup the soft clients. If you don't have access to the Admin Portal then contact you system administrator.
Login to your Admin Portal (Example *****.encoretg.net) using a web browser. The username is your extension number. The system administrator needs to setup the web portal password.

Zoiper Mobile Configuration
CloudVoice has integration with Zoiper mobile clients available for Android and iPhones. Basic features are available with their app, however advanced features such as Transfer, Conference and Presence with their GOLD version and can be purchased in the app. Download and install the app from the Google Play Store or from Apple's App Store on your smartphone.
To configure a client simple follow these steps:
Login to your company's Admin Portal through a web browser.
In the CloudVoice portal, select Client-Apps, Zoiper Softphone from the top menu.

Find the appropriate Extension.

Click QR Code and your browser will display a QR code.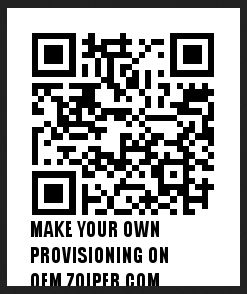 Open the Zoiper app on your phone, press the QR code button in the app and scan the code displayed on your browswer.